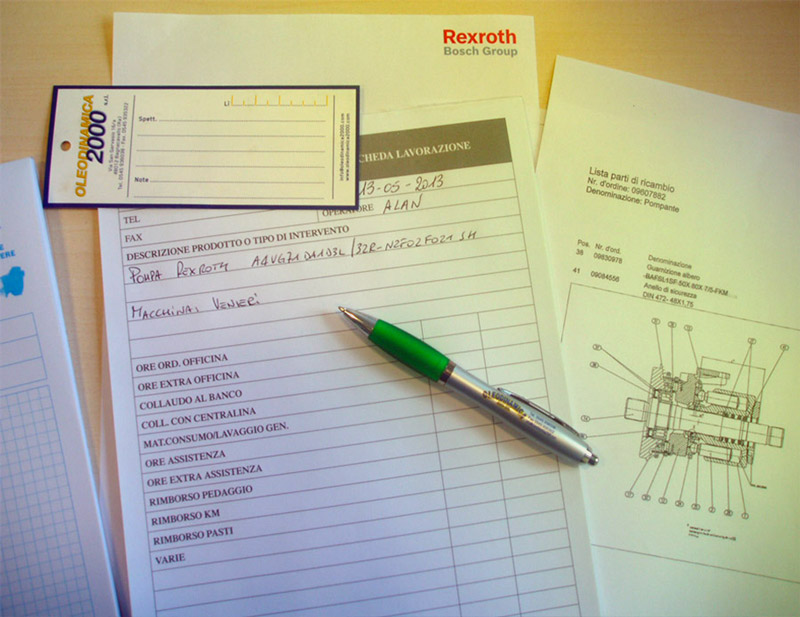 ---
Oleodinamica 2000
---
Oleodinamica 2000 specialises in the construction, overhaul and sales of hydraulic components of various brands.
The company was established in 1999, by two founding partners, Stefano Zannoni e Iuri Bertozzi, who are also the company's owners to-date.
Company staff is highly specialised and possesses professional competence and is thus able to offer its customers a fast and timely service, also owing to its warehouse stocked with both new and reconditioned spare parts and units of the leading brands, such as: bosch rexroth, sauer danfoss, casappa, linde, walvoil, vickers, oil control.
Since 2012 it has expanded its production facility at its new headquarters, measuring approximately 800 m2, located in the Bagnacavallo industrial area.
Workshop
---
The new headquarters consists of a large workshop divided into:
Goods receiving area, where the hydraulic units are accepted and catalogued using a dedicated processing form, complete with customer data, component data and information regarding the machine they are mounted on.
Workbench section, where all the various hydraulic units are disassembled and reconditioned by our technical staff.
Machine tools section, where structural work such as manufacture of frames for the control units and hydraulic iron pipe bending is carried out. The section is also equipped with swing-frame grinders and gear lapping machines for flat grinding of internal components of the various units.
Testing room, equipped with test benches, where static and dynamic tests are performed, with relevant calibration of the reconditioned components.
Spare parts warehouse, located in an area of approximately 250 m2, used for storage of spare parts and units of all brands.
Office area, consisting of management, technical/sales and administrative offices.
---